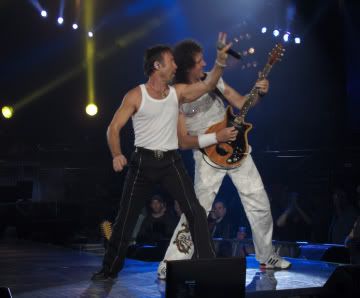 So my brother is ga-ga for Queen. He has a tatoo of the Queen crest on his arm that even Brian May was astounded by, back when we met him in 1998 (also in Chicago). Aaron had him autograph his arm (yep) which he then had tatooed. So you get an idea of what we're talking about when he tells me Queen is back on tour in the States for the first time since 1981, and we're going. No matter what.
We actually saw two concerts: Chicago on Thursday, and St. Paul on Sunday. The pics are from Chicago, where we were able to smuggle the camera in (good thing; how sweet are these 8th row pics?). We got to our lovely hotel at the end of a runway in Elk Grove around 1 PM, and then I hightailed it downtown to visit Lisa and Matt. I felt terrible being in a rush, because I wanted to spend lots of time with them, and Chicago is still my first love, but I had to be back at All State Arena by 7:30, and I had over an hour commute each way. So the three of us made due at Rock Bottom (we had dreams of Uno's, but alas...) and I made it back, just in time. The show was fantastic. It was great to see the band live, and hear the songs again. I was iffy on the prospect of Paul Rodgers (or anybody) replacing Freddie Mercury, but Freddie was front and center in everyone's hearts and minds. His voice started off the show, and he sang "Bohemian Rhapsody" to the crowd via the miracle of modern technology. And Paul Rodgers fit right in. He sounded great. So did Brian May: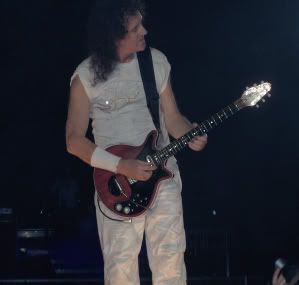 The highlights for me were Brian May's guitar solo (which was even more stupefying in St. Paul), "Radio Ga Ga", and "Under Pressure." Halfway through the concert I had lost hearing in my left ear -- no lie -- and I was very concerned, but it came back. So did the flu. The day after I was sicker than a dog, and I could barely stand up in St. Paul. I'd never been there before, and I found it very beautiful on the river. It reminded me a little of Dubuque, but much bigger. By the time we got there, though, I was dragging. I'm glad I made it, because the band was on a whole new level Sunday night. They killed out there from the get-go and were much looser and comfortable on stage than they seemed in Chicago (apparently Brian May was suffering from pain he sustained after falling into a piano pit). I put everything into clapping hands for "Radio Ga Ga":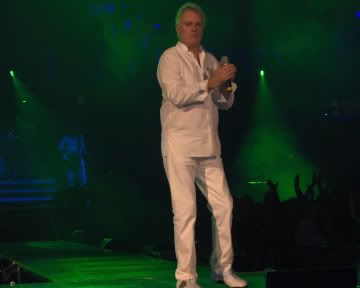 But after that, I was spent. And I'm really feeling it now. But I wouldn't have missed it for the world. Queen is one of the greatest bands ever, and good for them they're able to go back out and play the songs for people. I'm sure Freddie would have wanted it that way.