The midwestern IWP squad came to Waterloo to celebrate St. Patrick's Day this weekend. I spent some time playin Virgil in Dante's Inferno, giving the tour of Hell, and we did lots of fun things, like walk the nature trail, crash the Bosnian bar because Jameson's was over capacity, and witness truly cutting edge karoke at the Tymes, where everyone leaves a little uglier than they did when they got there. There were some things we didn't get to do. The open mic at the Arts Center was a bust (a bigger heads up than a note on the door might have helped), Jameson's was too crowded like I said (apparently
Ben
was there the same time we were -- could have been standing right next to him and not known it), and we didn't play Pitch! We forgot! But I'm so happy and glad they all came and enjoyed Waterloo. I'm sorry the others couldn't make it, but there's always another get togther around the corner.
Co,
Matt
, and Lisa in awe of the Tymes' karoke: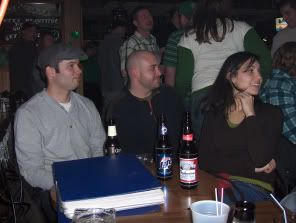 Andrew appreciates the Tymes: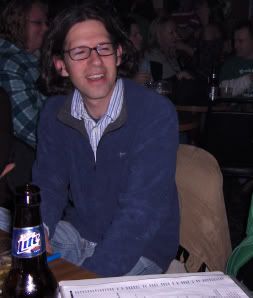 Me and
Mandy
at some point between "Sweet Home Alabama" and "White Wedding":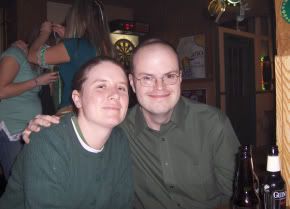 Exploring the woods out at Cedar Bend with Amy and Co's dog Dharma: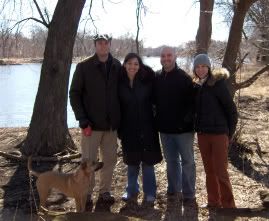 Dharma identifies an enemy target in the water and engages: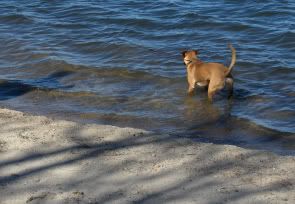 Wrapping up Saturday night: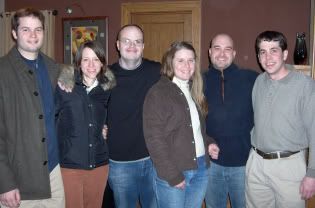 The best news: Amy and Co are pregnant! I'm so happy for them. Congratulations and salinte!