Jess Row
referees
Marcus Vs. Franzien and the larger realism vs. experimentalism debate over at Salon. This is a really good article and gets into the current state of literary affairs, so check it out. She says something very interesting:
'We need a vocabulary that can explain a novel like Edward P. Jones' The Known World, which at times feels deeply archaic and yet unfamiliar, rewarding the reader's expectations on one level and frustrating them on another.'
I think that's the problem in a nutshell; we don't have the vocabulary for explaining what's happening, or what may/may not be happening. The novel is not dead, but it may be lost in translation right now.
I was just reading some of Dorothy Alison's short story collection
Trash
this afternoon (it has probably my favorite short "River of Names" in it, as well as the incomprable "The Lesbian Appetite") when lo and behold I found
this.
(You'll have to scroll down a bit to find her.) So go vote. I mean, how can you go wrong with anal fisting?
And there's
this
, a selection of fake book covers. It made me think of my friend Mandy, who pointed out once that so many recent book covers featured shoes. And then I thought up this: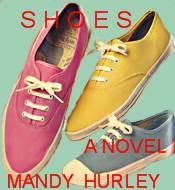 And Mandy also told me about this November is
National Novel Writing Month.
Basically you have between 11/1 and 11/30 to write 50,000 words, which is 175 pages, or a novella. I'm writing the Angel Book now, but the idea is exciting, especially since I've had an idea for a novella length story in the back of my head for a while.