In all the excitement of June, with the floods and other distractions, I never got around to sharing some photos of the trip my brother Aaron took to Kansas City early in the month, to see my aunt Charlene. We were there a very busy 3 days, the highlight of which had to be the World War I musuem downtown.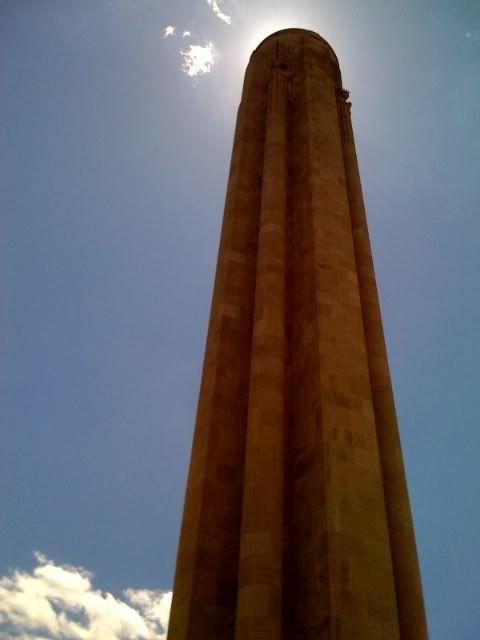 The dominant feature of the memorial is this 30 story monolithic statue that stands on a high hill overlooking downtown. You can go up in a very antiquated elevator (it dates from 1926) to the top and see an extraordinary view of KC. This image in particular inspired me to relocate my next novel from Iowa to Kansas. It also inspired me to research the memorial, which led me to the only-interesting-to-me bit of trivia that the nuclear holocaust film 1983, The Day After, featured the memorial in its coda. What was left of it anyway. That movie made a huge impression on me as it did most people who saw it, and I found myself remembering all sorts of 80's Cold War trivia - 'This is only a test. In the event of an actual attack...' - and I realized in some way this next novel is about those days, and those demons.
Anyways. The coolest thing about the memorial was not even the tower, but this: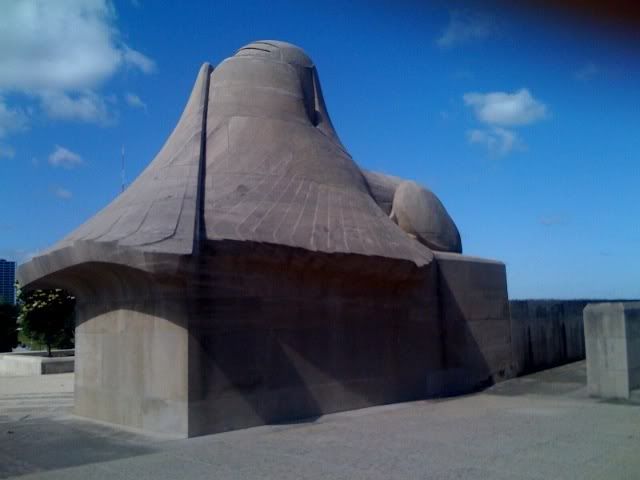 Two of these sphinxes face each other, theirs faces covered by their wings, shielding them from the past and the future. I must have stood and stared at them for like ten minutes.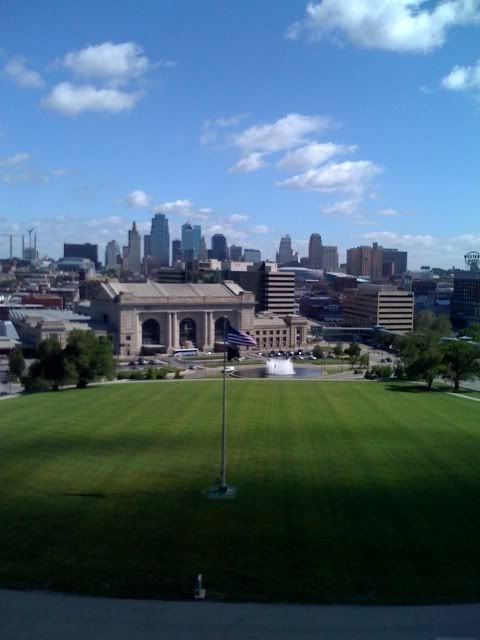 This is a view of downtown, looking down on Union Station, a gorgeous old train station that is now a musuem. We viewed a bizarre but fascinating human body exhibit there that showcased the preserved remains of people who donated their bodies to science. Hopefully I will get a chance to go back soon; my friend Sugu is coming back from Japan to KC for a few weeks in August. I'd love to go back and visit my aunt, as well as do some more research now I know I'm setting the book here.